Apple Inc. (NASDAQ:AAPL)'s next big launch after the iPhone 6 and 6 plus is the Apple Watch, which might be unveiled in early 2015. Apple Inc. (NASDAQ:AAPL) had a very successful iPhone 6 and 6 plus launch on Friday, which many claimed as the Apple's biggest launch ever. CEO of Swiss Watch maker, Parmigiani Fleurier, Jean-Marc Jacot talked on Bloomberg about his take on the Apple Watch.
Parmigiani Fleurier specializes in manufacturing luxury timepieces which might take as much as 2 years to manufacture. Jacot said that the Parmigiani watches are luxury watches with elegant and sophisticated designs. He added that everything in the Parmigiani watches are handmade including the dials. He mentioned that each and every movement in their watches are handmade with great precision.
Jacot said that the Parmigiani watches might take around 1 month to 2 year depending on the sophistication of the design. The price tags on these watches might range from $180,000 to as high as $6 million.
Jacot said that he was very happy to hear that the company like Apple Inc. (NASDAQ:AAPL)'s plan to launch electronic watches. He mentioned that the competition between mechanical watches and smart watches is very goo for the consumers. He added that the habit of people to have more than one watch encourages both the mechanical and smart watch makers. He mentioned that Apple is trying to push their smart watch technology into Switzerland. He wasn't having a good opinion about it though.
"My only concern for Switzerland is Apple Watch is not a watch infact. Nothing to do with wrist watch industry. Apple Watch is an instrument, you put on the wrist and because you put on the wrist, we called it a watch. But infact it is a different thing. In Switzerland, we don't have this technology to produce these types of things," Jacot said.
He added that many people in Switzerland, don't consider Apple Watch as a competition in wrist watch market. But Jacot feels that any instrument that goes on the wrist is a watch and might come up as competition to them in future. He mentioned that they should not sleep off hoping that Apple Watch might not impact their market shares.
Jacot said that smart watch was launched by many other companies in the last few years, but was never considered in Switzerland. But he feels that Apple Inc. (NASDAQ:AAPL) Watch has the brand value to push it in Swiss market. He mentioned that he would be intellectually very interested to work with Apple to come up with a watch design, but he was not very sure about the success of that design though.
Jacot feels that the smart watch keeps increasing the stress on consumer, because the consumer get to control everything from their wrist. So he hopes that as the technology grows, so does the need for mechanical watches as well.
Among the shareholders of Apple Inc. (NASDAQ:AAPL) is Icahn Capital Lp, led by Carl Icahn. As of 30 June, 2014, they hold around 52.8 million company shares.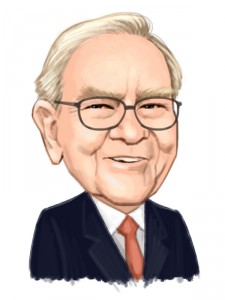 Free Report: Warren Buffett and 12 Billionaires Are Crazy About These 7 Stocks
Let Warren Buffett, David Einhorn, George Soros, and David Tepper WORK FOR YOU. If you want to beat the low cost index funds by an average of 6 percentage points per year look no further than Warren Buffett's stock picks. That's the margin Buffett's stock picks outperformed the market since 2008. In this free report, Insider Monkey's market beating research team identified 7 stocks Warren Buffett and 12 other billionaires are crazy about. CLICK HERE NOW for all the details.
Suggested Articles:
Top Travel Destinations in South America