BlackBerry Ltd (NASDAQ:BBRY) is banking on the BlackBerry Passport's weirdness to get people to at least give the phone a try, Roger Cheng, CNET executive editor, said in a discussion on CNBC.
BlackBerry Ltd (NASDAQ:BBRY) has just released the Passport, a phone that features a square touch screen and a QWERTY keyboard.
"[…] it's a niche product. Not everyone is going to want this phone. They're trying to bank on the fact that it's so polarizing that people will at least try it," Cheng said.
According to the editor, people will go to consumer electronics stores and will see a sea of very similar-looking devices and spot the BlackBerry Ltd (NASDAQ:BBRY) Passport which will stand out as it is dramatically different. Nonetheless, Cheng said that he thinks not a lot of people will forgo what they are comfortable with and switch to the Passport but at least the oddness of the device will give the company a chance to win over customers.
Cheng said that at first, the phone's design took a bit getting used to but after he was familiar with the device, he found it to be "pretty useful". He noted that the BlackBerry Passport offered a "great typing experience." In fact, he said he was able to write a short story for CNET on the device.
However, that is not the only selling point of the device as discussed by the CNBC panel. According to the team, BlackBerry Ltd (NASDAQ:BBRY) is also hitching its future to its focus on the enterprise and on its reputation for security. They noted that the company is targeting professionals who will most likely find the size and design of the screen of the Passport very useful.
Prem Watsa's Fairfax Financial Holdings owned about 46.65 million BlackBerry Ltd (NASDAQ:BBRY) shares by the end of the second quarter. This is the firm's largest holding in its portfolio as it was worth about $477.77 million by the time it was reported and comprised 32.67% of the firm's whole portfolio.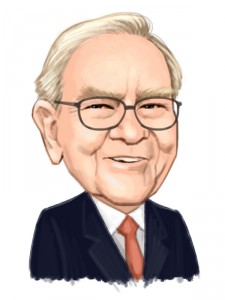 Free Report: Warren Buffett and 12 Billionaires Are Crazy About These 7 Stocks Let Warren Buffett, David Einhorn, George Soros, and David Tepper WORK FOR YOU. If you want to beat the low cost index funds by an average of 6 percentage points per year, look no further than Warren Buffett's stock picks. That's the margin Buffett's stock picks outperformed the market since 2008. In this free report, Insider Monkey's market beating research team identified 7 stocks Warren Buffett and 12 other billionaires are crazy about. CLICK HERE NOW for all the details.
Suggested Articles:
Top Selling Smartphones In the World
Best Places To Visit in Mexico