In an effort to tackle Apple Inc. (NASDAQ:AAPL)'s new launched mobile payment method, Apple Pay, BlackBerry Ltd (NASDAQ:BBRY) has announced two new payment options.  The company has announced that BBM Money service will now be open for iOS and Android devices as well. It's a special service for BlackBerry Ltd (NASDAQ:BBRY)'s Messenger users which will currently be available just inside Indonesia. The second announcement is regarding the integration with TransferTo which is a global provider of international airtime remittance. BlackBerry Ltd (NASDAQ:BBRY)'s announcement said that after the integration, BBM users will be able to gift mobile airtime minutes to their BBM Contacts globally.
Explaining the TranserTo integration, Senior Vice President, Emerging Solutions at BlackBerry Ltd (NASDAQ:BBRY), Matthew Talbot said that around 80% of the mobile users have prepaid accounts. TransferTo service will let the users to share prepaid mobile credit to their friends, family and acquaintances who are in their BBM Contact list.
BlackBerry Ltd (NASDAQ:BBRY)'s BBM users will now be able to send money, pay bills, share credit, gift airtime and much more using their Android and iOS devices. This will increase the interconnection between the BBM users and open new horizons for development and integration in the BBM domain. The new service is developed by Monitise Indonesia and all the processes and payment will be managed by PermataBank. Talbot said that the BlackBerry Ltd (NASDAQ:BBRY) has been pilot testing Indonesian market place for a year and very soon, these services will be expanded and anyone will be able to use BBM from their Android or iOS device. The restriction and limitation about bank will also be lifted.
If Apple's mobile payment system succeeds in getting trust from masses, there is a very scarce chance that BlackBerry Ltd (NASDAQ:BBRY)'s new announcements will make any difference to the user perspective.
Prem Watsa's Fairfax Financial Holdings is one of the shareholders of BlackBerry Ltd (NASDAQ:BBRY), having around 46.65 million shares in the company.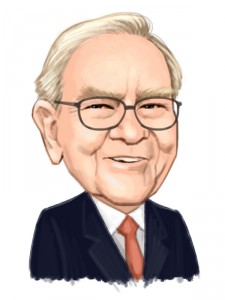 Free Report: Warren Buffett and 12 Billionaires Are Crazy About These 7 Stocks
Let Warren Buffett, David Einhorn, George Soros, and David Tepper WORK FOR YOU. If you want to beat the low cost index funds by an average of 6 percentage points per year look no further than Warren Buffett's stock picks. That's the margin Buffett's stock picks outperformed the market since 2008. In this free report, Insider Monkey's market beating research team identified 7 stocks Warren Buffett and 12 other billionaires are crazy about. CLICK HERE NOW for all the details.
Suggested Articles:
Best Financial Services Companies To Work For