BlackBerry Ltd (NASDAQ:BBRY) is bragging about its sales and popularity regarding its newly launched Blackberry Passport on every platform. In a blog post, BlackBerry Ltd (NASDAQ:BBRY)  mentioned the popularity and anticipation regarding Passport in India and quoted some mainstream Indian newspapers which are giving good reviews to Blackberry. Emerging markets have always been a good ground for Blackberry phones as the executive class, although very limited, choose BlackBerry Ltd (NASDAQ:BBRY) phones as their device for work and general usage.
BlackBerry Ltd (NASDAQ:BBRY)'s post talked about a famous advertising campaign, Blackberry Boys launched by Vodafone India in the early days of Blackberry's market expansion. The company claims that BlackBerry Ltd (NASDAQ:BBRY) phones were the only devices that went perfectly well with  the wireless networks and carrier services of the Indian markets. Blackberry even claimed that its phones crossed iOS and Android devices in tackling 2G networks in India.
BlackBerry Ltd (NASDAQ:BBRY) quoted Nandagopal Rajan, a famous phone reviewer from The Indian Express. Rajan thinks that Blackberry Passport is one of the most innovative phones of the current times. He wrote that if Passport was designed by some company other than Blackberry, the experts and general users would have praised the phone massively. As Passport is coming for Blackberry, it is a victim of some biases, according to Rajan.
Rajan also praised BlackBerry Ltd (NASDAQ:BBRY)'s keypad. He thinks that there is no need to use the remaining touch enabled 4.5 inch display of Blackberry's Passport because the keypad is very efficient and suffice for all the normal tasks. He thinks that stainless steel edges and office oriented software in the new phone are some of the most unique features.
BlackBerry Ltd (NASDAQ:BBRY) also quoted Abhik Sen, a writer at India's Business Standard. Sen thinks that BlackBerry Ltd (NASDAQ:BBRY) 's Passport is for all those users who want to have a mini office in their pocket.
Prem Watsa's Fairfax Financial Holding owns over 46 million shares of BlackBerry Ltd (NASDAQ:BBRY).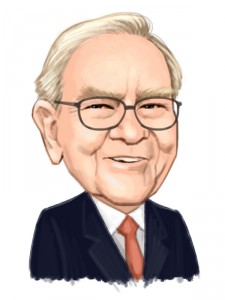 Free Report: Warren Buffett and 12 Billionaires Are Crazy About These 7 Stocks
Let Warren Buffett, David Einhorn, George Soros, and David Tepper WORK FOR YOU. If you want to beat the low cost index funds by an average of 6 percentage points per year look no further than Warren Buffett's stock picks. That's the margin Buffett's stock picks outperformed the market since 2008. In this free report, Insider Monkey's market beating research team identified 7 stocks Warren Buffett and 12 other billionaires are crazy about. CLICK HERE NOW for all the details.
Suggested Articles:
How To Be A Hedge Fund Manager