Google Inc (NASDAQ:GOOGL) would be a better investment choice than Apple Inc. (NASDAQ:AAPL), Peter Thiel said in an interview with Andrew Ross Sorkin on CNBC's "Squawk Box".
The comment from the legendary investor who co-founded PayPal, Inc. before becoming one of the very first angel investors of Facebook Inc (NASDAQ:FB) comes after Apple Inc. (NASDAQ:AAPL) launched new products including the iPhone 6, iPhone 6 Plus and Apple Watch. Google Inc (NASDAQ:GOOGL) is also expected to debut the Nexus 6 smartphone in the next couple of months.
"I'd probably still go with Google. The risk with Apple [is]that at some point, they lose the pricing power on phones. The risk with Google is the [European Union] antitrust stuff. Those are the basic risks but there's probably more upside with Google over the next decade than with Apple," Thiel said when asked where he would invest a dollar between the two companies.
The risk Thiel noted for Google Inc (NASDAQ:GOOGL) is the "right to be forgotten" ruling in Europe, an issue being tackled by the company with a series of debates in seven key cities in the region.
Meanwhile, Thiel also said that Apple Inc. (NASDAQ:AAPL)'s Chief Executive Officer, Tim Cook, is doing a great job at his post especially since he had very big shoes to fill after the passing of the company's co-founder Steve Jobs.
According to the legendary investor, the main challenge for Apple Inc. (NASDAQ:AAPL)'s management is that it's really hard to make an impact on financial performance with new products particularly because their products have done especially well in the past. Thiel said that for a company that has $150 billion coming from phone sales, a billion dollars generated by a new product does not leave a big impact on its performance.
Furthermore, Thiel said he thinks payments (Apple Pay) and watches (Apple Watch) are probably too small to "move the dial" for the iPhone-maker. He added that a big game-changer for Apple Inc. would be a new television.
David Tepper's Appaloosa Management Lp is an investor in Google Inc (NASDAQ:GOOGL). The hedge fund reported 442,259 Class A shares in Google Inc (NASDAQ:GOOGL) by the end of the first half of the year.
Apple Inc. (NASDAQ:AAPL) investors includes Carl Icahn's Icahn Capital Lp which reported about 52.76 million shares in the iPhone maker by June 30 of this year.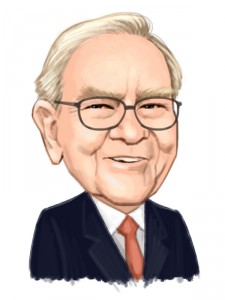 Free Report: Warren Buffett and 12 Billionaires Are Crazy About These 7 Stocks
Let Warren Buffett, David Einhorn, George Soros, and David Tepper WORK FOR YOU. If you want to beat the low cost index funds by an average of 6 percentage points per year look no further than Warren Buffett's stock picks. That's the margin Buffett's stock picks outperformed the market since 2008. In this free report, Insider Monkey's market beating research team identified 7 stocks Warren Buffett and 12 other billionaires are crazy about. CLICK HERE NOW for all the details.
Suggested Articles:
Top Accounting Scandals of All Time