BlackBerry Ltd (NASDAQ:BBRY) has changed its business almost completely, by getting out of the rat-race of the smartphone world. Its CEO, John Chen, is on a mission to change BlackBerry Ltd (NASDAQ:BBRY) from a smartphone maker to a mobile security and software services company. The strategy shift that he brought to BlackBerry Ltd (NASDAQ:BBRY) is showing some results, but it's still time before one can, with all certainty, say that he has succeeded. The Wall Street Journal recently came up with an article that highlighted the changes that are happening in BlackBerry Ltd (NASDAQ:BBRY) under Chen.
Chen made sure to inform the investors and analysts that BlackBerry Ltd (NASDAQ:BBRY) will be transforming itself to a software services and telecommunication security company, as soon as his took charge as the CEO. Though he is moving swiftly in that direction, he hasn't completely closed the doors on what was ones the company's core business, smartphones. This is evident from the recent launches of smartphones that specifically targets business customers. After the massive debacle of BlackBerry 10 phones in 2013, the company is on the verge of releasing its new handset Passport, globally within a few days.
Chen's major accomplishment is that he doesn't goes back on his words, which he proved when he reiterated in June this year that BlackBerry Ltd (NASDAQ:BBRY) would be cash-flow positive by 2015. He also has a knack for surprising the street, which he displayed when he declared quarterly profits and by achieving the cost-cutting target one quarter in advance.
The company's stock has seen a 68% rise since Chen took over as BlackBerry Ltd (NASDAQ:BBRY)'s CEO and the majority of Wall Street expects the upward momentum to continue, factoring in Chen's credentials of being a turnaround expert. Whether Chen's effort will go futile or he will turn out to be one of the most admired executive in history by turning around BlackBerry Ltd (NASDAQ:BBRY), only time can tell, but going by what he has accomplished in a short span of time, the latter looks more probable than the former.
As of June 30, 2014, Prem Watsa's Fairfax Financial Holding owns over 46 million shares in BlackBerry Ltd (NASDAQ:BBRY).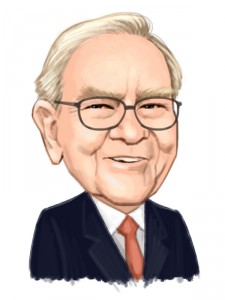 Free Report: Warren Buffett and 12 Billionaires Are Crazy About These 7 Stocks
Let Warren Buffett, David Einhorn, George Soros, and David Tepper WORK FOR YOU. If you want to beat the low cost index funds by an average of 6 percentage points per year look no further than Warren Buffett's stock picks. That's the margin Buffett's stock picks outperformed the market since 2008. In this free report, Insider Monkey's market beating research team identified 7 stocks Warren Buffett and 12 other billionaires are crazy about. CLICK HERE NOW for all the details.
Suggested Articles:
Countries With Lowest Cost of Living
Examples of Genetically Modified Organisms