International Business Machines Corp. (NYSE:IBM)'s Super Computer 'Watson' is all set to expand its artificial intelligence for practical commercial purposes. IBM executives believed that 'Watson' could be utilized for commercial purposes in Medicine, Call centers and Wealth Management. Mike Rhodin, Senior VP of IBM Watson Group explained about the Watson's applications at 'EmTech' a conference organized by MIT Technology Review.
International Business Machines Corp. (NYSE:IBM)'s Watson was first built to answer the questions asked to it by the user. The artificial intelligence of the super computer allowed it to understand the questions put to it and answer accordingly. The technology was too good to just stop there. IBM realized and invested on it to further expand the super computer's applications. Rhodin was quoted as saying that original version of Watson was "just the first building block".
Rhodin mentioned that International Business Machines Corp. (NYSE:IBM) is planning to expand the applications of Watson by enabling the capability of answering domain specific questions. In spite of the doubts raised by many over the capabilities of Watson, IBM decided to invest to expand it further. It has also opened gates for the emerging app developers to work with them.
International Business Machines Corp. (NYSE:IBM)'s strategy of letting startups develop the technology further gave them a completely different thought process. In a competition conducted by IBM, a startup named Majestyk developed an app to embed Watson's capability into stuffed animals. These stuffed toys can engage in conversation with children and give feedback on the kids learning capacity. Rhodin mentioned that IBM would not have come up with such out of the box ideas.
"We never would have thought of it; we don't have that DNA. It validated the idea that we needed to open up the platform and make it available to the startup marketplace," Rhodin was quoted as saying.
Rhodin also mentioned that the company would pursue revenue sharing model with the startup if such ideas are commercialized in the future. Watson might help the researchers in reading thousands of related documents and collect required information to aid the research work.
In the financial sector, Watson was helping a financial service provider to US Military, USAA. The platform reads, understands and analyzes more than 3000 USAA financial documents and answers the USAA customer questions. USAA representative at conference pointed at the flaw in the Watson, which doesn't allow the users to pose follow up questions.
Inspite of such roadblocks, IBM has high hopes for functionality of Watson in Medicine and automated call centers.
Among the shareholders of International Business Machines Corp. (NYSE:IBM) is Berkshire Hathaway, led by Warren Buffett. As of 30 June, 2014, they hold around 70 million company shares.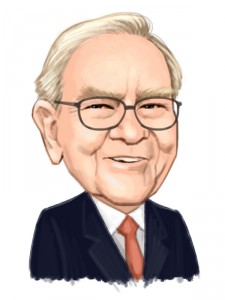 Free Report: Warren Buffett and 12 Billionaires Are Crazy About These 7 Stocks
Let Warren Buffett, David Einhorn, George Soros, and David Tepper WORK FOR YOU. If you want to beat the low cost index funds by an average of 6 percentage points per year look no further than Warren Buffett's stock picks. That's the margin Buffett's stock picks outperformed the market since 2008. In this free report, Insider Monkey's market beating research team identified 7 stocks Warren Buffett and 12 other billionaires are crazy about. CLICK HERE NOW for all the details.
Suggested Articles: