BlackBerry Ltd (NASDAQ:BBRY) unveiled its brand new smartphone 'Passport' on Sep 24 launch event at London, Dubai and Toronto. The new smartphone from BlackBerry received good response from many, but the phone also had its share of detractors too. Meanwhile BlackBerry Ltd (NASDAQ:BBRY) are gearing up for the launch of yet another smartphone 'Classic' in couple of months. John Chen, Executive Chair and CEO of BlackBerry Ltd (NASDAQ:BBRY) talked on CNBC about the Passport phone and the company's future.
Chen said that he is very optimistic about the hardware growth with the launch of 'Passport' and expected launch of 'Classic'. BlackBerry Ltd (NASDAQ:BBRY)'s Enterprise Servers (BES) 10 and 12 are software's working behind the scene and manager security.
"First of all, the BES12 is going to come out on Nov 13. […] I am very confident with our software business. The product is very solid, Customer sees it and I am getting a lot of request. So I am pretty sure it will grow and next year [..] going to be hopefully a very good year for us in software," Chen said.
Chen mentioned that he is focused right now on managing the Cash and product roll outs. BlackBerry Ltd (NASDAQ:BBRY) recently announced about the acquisition of Virtual Sim technology startup Movitru. Chen mentioned that the idea behind the acquisition was to make sure that the software is available across all platforms like android, iOS, Windows and Blackberry OS. He added that the interest is not only on the enterprise side but also on the distribution side to take it through carriers.
Chen mentioned that the company will be able to meet the initial commitment that it gave to the investors, which is to achieve cash flow breakeven of positive from operations by the end of this fiscal year. He added that the hardware roll outs and other initiatives are going in the right direction to achieve the commitment. Chen said that he will remain as CEO of the company as long as it takes the company back to profits.
Chen also talked about the 'Passport' phone and said that the phone gives clear indication of BlackBerry Ltd (NASDAQ:BBRY)'s singular focus. He added that the main target of a phone like 'Passport' is to achieve proper utilization of consumer's time, rather like other smartphone which helps consumers in killing time. He said that this is the main reason behind BlackBerry Ltd (NASDAQ:BBRY)'s professional customer base.
Security, Battery life and typing experience has been the key features of BlackBerry Ltd (NASDAQ:BBRY)'s phones and the survey conducted by BlackBerry on 9500 people also indicated that they are interested in achieving the same.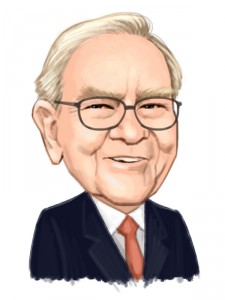 Free Report: Warren Buffett and 12 Billionaires Are Crazy About These 7 Stocks
Let Warren Buffett, David Einhorn, George Soros, and David Tepper WORK FOR YOU. If you want to beat the low cost index funds by an average of 6 percentage points per year look no further than Warren Buffett's stock picks. That's the margin Buffett's stock picks outperformed the market since 2008. In this free report, Insider Monkey's market beating research team identified 7 stocks Warren Buffett and 12 other billionaires are crazy about. CLICK HERE NOW for all the details.
Suggested Articles:
Strategies Hedge Funds Use to Make Huge Returns
Most Expensive Boats In the World